Raksha Bandhan is a time for siblings to keep aside the little fights and grumbles and express their true love for one another. We all know we don't need a specific day for that but this day sure brings a lot of joy and happiness with it. So this Raksha Bandhan lets make it a point to match everything with our sibling – be it wits, time or even a slight effort with your dressing style! On this special occasion, give your sibling a surprise by matching your clothes with them. Here are a few pointers on how to ace and match up with your sibling this Raksha Bandhan!
How To Match Outfits With Your Sibling Like A Pro, This Raksha Bandhan!
1. Colour combination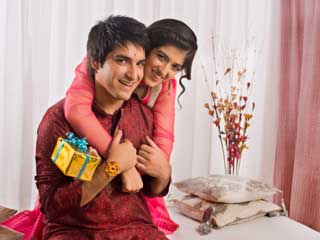 Don't copy the colour too closely that you end up looking unimaginative and funny to the bigger extent. The best idea is to play with contrast colours. Be his contrast twin this Rakhi! For example, If he is wearing a red kurta with, you opt in a similar shade that suits you!
2. Fuse Your Fashion
It's time to take a small spin from the ever traditional look this time. We all know how much men freak at the idea of having to get all dressed up in traditional clothes. So to give it an ease fuse your fashion this time. Let him wear his favorite pair of jeans and t-shirt and you play along with a matching pair of t-shirt and wear a skirt or midi to look it simple yet beautiful!
3. Single Toning Your Colours
Men look better usually with solid colours than they do with a combination of colours. Therefore, in case your brother picked a solid colour then you need to play it up and go for the same monotonous colour combo. Play around and work with the shade to make it work for you.
4. Casual But Well Arranged
It's sad but true how most of us do not have a holiday on Raksha Bandhan these days. Hence why not opt a casual look over the traditional barriers. Your brother might be busy for office and wearing a regular shirt or kurta so opt for a casual kurta of the same shade and he would know you took the effort!
5. Match Just The Accessories.
We all know how bad men are with picking out accessories for themselves.  But there sure is that one piece of jewelry he likes to wear all the time. So this Rakhi pick you a piece of jewelry that goes well matched with his favorite piece of jewelry and flaunt it together like a boss!
Rakhi is about celebrating the moments of togetherness, this Raksha Bandhan get your brother the best Rakhi from our assorted collection on Spoyl.
Comments